Working With HR Clients From Hell? Here Are Two Quick Tips For Dealing With Them…
By Alan Collins | successinhr.Com/hr-clients-from-hell
On a few occasions, I've had the delightful privilege of working with the client from hell.
You know the type…
The client that doesn't think HR can do anything right.
The client you dread getting telephone calls from.
The client, who when his or her name pops up on your phone, you feel like throwing up before answering the call.
The client that you lay awake the night before trying to figure out a way to avoid meeting with the next day.
The client that no matter what you do, no matter what HR heroics you pull off, will find something to beat you up for.
You feelin' me?
As an HR professional, you'll work with a lot of clients. Obviously, 95% of them will be terrific and won't have horns or carry a pitchfork.
Here's the point: One of the best things you'll ever do for your HR career is to seek out and work with the Tonys of the world. There are lots of them out there — in all organizations, at all levels — from Warehouse Manager to CEO.
These clients are looking for great HR folks also. They want to partner with those who share and can help them realize their own visions for their organizations.
But make no mistake about it, clients like Tony are very demanding and won't hesitate to kick you in the butt too…but in the process will also grow you, stretch you, challenge you, inspire you, nurture you and give you tough love along the way. And that's what you want.
Now, having seen Tony, let's get back to the original point of this article: What do you do to address clients from hell?  Two quick tips.
1. Avoid them in the first place.
When you're interviewing for that new HR job, interview the company as hard as they are interviewing you. Ask insightful and tough questions to the business leader of the client group you'll be supporting.
If the business leader or your main client is too busy to meet with you, that's a big red flag.
And, again, a poor match will make your HR life a living hell. If you don't know what to look for when interviewing your clients, it's easy. You want to try and get as close to a Tony as you can.
2. If you're already in a bad client relationship, start your exit strategy.
You want to pull the plug on this assignment ASAP. Your options: Transfer. Post for a new job. Have a candid discussion with your boss about another client or assignment. Leave the organization. Or offer to job swap with some other unsuspecting HR colleague (hey, just kidding!).
Either way, whatever you do, don't fall in the trap of trying to fix this person. Research conducted by the Center For Creative Leadership reveals that trying to change your client is a waste of time – especially if they've been around awhile and their behavior has been tolerated. So stop wishing he or she will change and put your own needs first.
If your exit from this role is going to take some time, don't be vindictive. Be patient and bide your time. Continue to give this jerk the same responsive, professional, value-added HR support that you always have. Just because you're getting crapped on, is no excuse to return the favor.
However, don't plan to stay in this role long. In volatile times with downsizing still occurring in many organizations, you never can tell how much weight this madman's perceptions will be given in HR layoff decisions.
Let me be clear: the "personal development," "character building" and the +5% compensation bribe…er, increase you might get to work with bad clients is overrated. It may sound great at the time, but isn't worth it. Whatever you gain developmentally is offset by the hit you take to your HR reputation, your personal self-esteem and your mental sanity.
Life's too short.
Avoid toxic clients at all costs.
You deserve better.
Onward!
Say 'yes' to no: 6 ways to say 'no' at work and still get ahead

There are ways to break the habit of saying yes and get your life back, without giving up your career goals.

When did "no" become a four-letter word? It seems like only yesterday when Nancy Reagan was on a very special episode of "Diff'rent Strokes" to talk to Gary Coleman about the virtues of saying no. (Those were the days, eh?)

If only the former first lady were around today to speak with today's working professionals about just saying no at work. In addition to steering them away from drugs, she could also advise them to steer clear of taking on extra work, which (not unlike drugs) can so often take a toll on workers' stress levels and productivity.

Despite their already full workloads, tight deadlines and packed schedules, many working professionals have a hard time saying no, for fear of missing out on opportunities and damaging their professional image. Contrary to popular belief, however, saying no doesn't have to be a bad thing. In fact, it can be incredibly empowering, says Scott Fetters, founder of High Five Digital Marketing.

"Saying no is your battle shield for deflecting distractions, staying true to yourself and sticking to the course,"Fetters writes.

Not to mention that it's also one's right to say no. Saying no, however, does not come easy -- especially in the workplace.Women in particular have a hard time saying no -- perhaps due to a learned habit of trying to please everyone or an inherent fear of hurting other people's feelings. Fortunately, there are ways to break the habit of saying yes and get your life back, without giving up your career goals.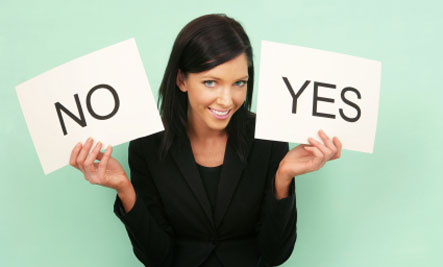 Six ways to say no at work and still get ahead:

1. Shift your mindset. Don't think of saying no as giving up or giving in. Look at it as a way to free up time for what's truly important to you. "Some of us have a hard time saying no because we hate to miss an opportunity,"says HBR's Peter Bregman. But saying no isn't about missing an opportunity -- it's about making a choice and opening yourself up to a different opportunity.

2. Take pride in saying no. Many people hesitate to say no for fear of losing respect from colleagues or their manager, when in reality, saying no can have the opposite effect. Saying no "shows you have a vision, a plan and an opinion," Fetters says.

3. Be clear. One of the reasons women hate to say no is fear of hurting someone else's feelings. But when you say no, you're not rejecting that person -- just the request. So be clear and explain -- honestly -- why you're rejecting the request.

4. Don't feel guilty. Remember: You have a right to say no. Don't feel guilty for saying no. After all, if you say yes to work and you don't have the time, resources or energy needed to produce a quality result, isn't that more unfair to the person whose request you're accepting than saying no?

5. Choose the right words.When saying no, use the phrase "I don't" instead of "I can't," which research shows is a more effective way to say no. As Heidi Grant Halvorson, director of the Motivation Science Center at Columbia University, explains, "'I don't' is experienced as a choice, so it feels empowering. It's an affirmation of your determination and willpower. 'I can't' isn't a choice … [It] undermines your sense of power and personal agency."

6. Know when to say yes.Say yes only to the projects you truly want to take on, says career expert Lindsay Olson. "Before you say yes to something," she suggests, "pause a moment and ask yourself whether this is truly something you want to do, or whether you simply feel obliged to say yes to it."

(Picture Source: Internet)
HRVietnam - Collected